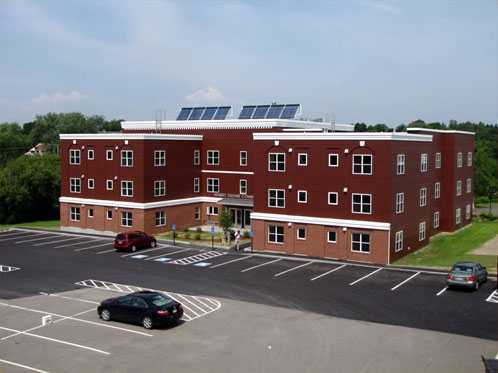 Client: Coastal Enterprises, Inc., Houlton, Maine
Cost: $3,500,000
Completed: July 2010
With the only open site in historic downtown Houlton, the Owner desired a design that respected this history while utilizing the technology of today to make this building truly sustainable. Some of the strategies used to achieve this included use of spray foam insulation in combination with dense pack cellulose for a super insulated shell, wood pellet boilers used in combination with a gas boiler which eliminates dependence on oil, and solar panels installed for hot water usage. Market Square Commons includes 28 units of elderly housing with several community spaces and rooms. 25,740 s.f.
"This building has performed very well and is by far our most energy efficient building in our portfolio at CEI"

– John Egan, Project Developer, Coastal Enterprises Incorporated