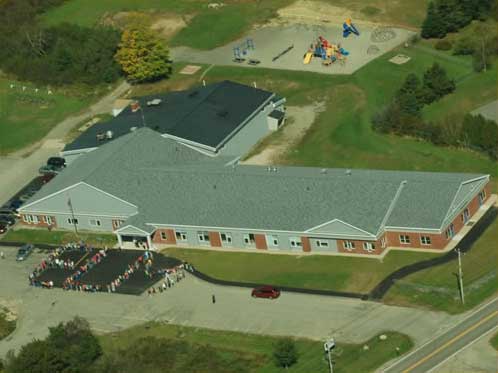 East Machias, Maine
Client: Scott Porter, Superintendent of Schools for A.O.S. 96
Cost: $900,000
Completed: 2012
Scott Porter, Superintendent of Schools for A.O.S. 96, approached us in 2011 with a scheme to improve the Elm Street School. The idea was to add a pitched roof to the entire building and construct a 3,000 s.f. addition. A portion of the original building had a sawtooth-style roof while the remaining portion was a flat EPDM surface. We used wood trusses and some steel beams to overframe the entire roof. This also presented an opportunity to add insulation over the existing roof surface. We specified blown-in cellulose insulation to raise the R-value to R-38. A new entrance brings a better focus to the building while the addition complements the existing building elevation. The existing ventilation system and exterior drainage systems were upgraded as well. This much needed renovation stopped the chronic leaking problems for the school and the new design enhances the overall image for the community at large.
Energy efficiency
We take energy efficiency very seriously at our firm. Rather than just adding elements to achieve a rating, we integrate systems and materials to maximize the energy system of the entire design as a whole.
Some of the features of our design include:
Attic:
R-38 blown-in insulation
Truss heel height that allows for proper eave insulation
Windows:
Fiberglass windows
Energy Star rated Marvin Integrity windows
Exterior Walls:
R-21 exterior walls
Blown-in insulation & exterior rigid insulation
Heating and ventilation:
Radiant floor heating
2 wall-mounted LP Boilers
HRV units throughout to maintain proper air changes for a "healthy" building