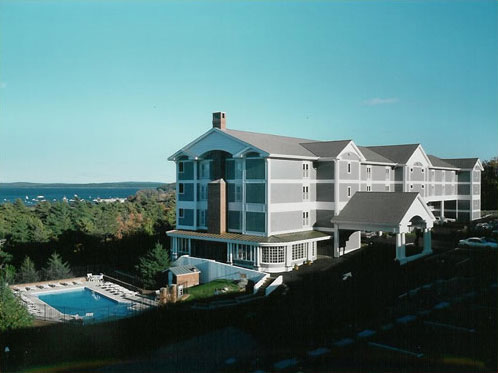 Bar Harbor, Maine
Cost: $3,600,000 ($74.50/S.F.)
Completed: May 1995
This project entailed designing a 48,500 square foot hotel and conference center to replace an existing hotel destroyed by fire in the spring of 1994. The constraints involved keeping the hotel open and operating during construction and a tight design phase to close-out time frame for completion.
As the design process developed, it became evident that the destroyed building no longer met the owner's desires or needs. The new structure is a full service hotel complete with 48 new suites, an entry lobby, a registration lobby and office, a great room with a full service custom bar, a dance floor, formal seating and a large fireplace, a gift shop and two conference rooms. The completed was a four story, steel and wood framed structure, with breathtaking views of Frenchman Bay from private guest balconies.
The design phase commenced in June of 1994. Construction began in October of 1994, and the Bluenose Inn was open for business in May of 1995. This was an extremely short turnaround and could not have been accomplished without a complete team effort by the owners, contractor, and architect.